TS STORY
The Global Standard
Active Vibration Isolation System
Landmarks in the development of active vibration isolation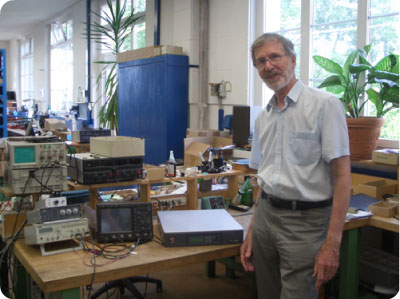 While working on a new design for a Fabry-Perot Interferometer for RCA Laboratories in Switzerland in 1980 it became apparent that the instrument was being affected by building vibrations. This prompted me to design a compact active isolation system that could fit within the instrument. This design was adequate for the application, but not useful as a general purpose isolator. After further development I constructed the first successful active vibration isolation system in 1985. Several of these systems were distributed within the production facilities of RCA. The idea was licensed to a US manufacturer in 1986 and was voted 4th in the list of 10 Best New Products for that year. The following year the product received an IR100 award. US Patent No. 4,643,385 was issued in 1987. Details of this device can be found in SPIE 732 157 (1987).
These early devices were expensive when compared to passive isolation systems, and the market was not ready. However I saw a future for active isolation and left RCA in 1987 in order to set up my own company – JRS Scientific Instruments. Considerable effort was put into developing modular active isolation systems and the first product, MOD-2, was ready for the market in 1991. At that time the markets were limited, but then IBM burst on the scene with the Scanning Tunneling Microscope having atomic resolution. Many derivative devices followed, in particular the Atomic Force Microscope, and suddenly the whole world needed vibration isolation.
JRS had the right product at the right time and grew into this expanding market. In the following years JRS introduced a whole range of new products from table top units to systems that could support the heaviest electron microscopes. At this time Herz in Japan and Herzan in the US made a big sales effort to make the active isolation systems better known. In addition, in 1995 the company Halcyonics was formed together with colleagues from Germany, as a sales arm for the isolation systems. Unfortunately this cooperation ran into difficulties and in 2001 Halcyonics bought the right to manufacture the JRS isolation products and was separated from JRS. Subsequently HWL Scientific joined the sales effort for JRS in Europe and I set up the company Table Stable as the new sales arm for the JRS isolation systems. In 2011 Octalab in Singapore joined the sales team.
Our latest products use an innovative piezoelectric low power technology and give excellent isolation for instruments used in manufacturing and research throughout the world.
Today, our products became the most used and famous active vibration isolation systems in Europe, America, Asia, Africa, Middle East and Russia and have been sold in more than 40 countries.
The Table Stable continues to be the leading manufacturer of vibration isolation systems
The Table Stable Ltd.
John R. Sandercock